Services
We provide specialist help to: Temporary and residence visas,
as well as providing advice to employers.
We assess your case, advise on strategy, and let you know what documentation you need to provide.
We then prepare your application and, once it is submitted, liaise with Immigration New Zealand on your behalf. If any issues arise we discuss them with you and work to resolve them with Immigration New Zealand.
Work visas
Student visas
Family Residence visas
Skilled Migrant Category residence visas
Residence from Work visas
Business and Investor visas
Section 61 Requests (if you are in New Zealand without a visa)
Employer applications: Approval in Principle and Employer Accredited IPT Appeals
The Immigration and Protection Tribunal is an independent body established under the Immigration Act 2009 (the Act) to hear appeals and applications regarding:
residence class visas
deportation (including appeals on the facts and humanitarian grounds)
claims to be recognised as a refugee or as a protected person.
The Tribunal is administered by the Ministry of Justice. It is chaired by a District Court Judge, appointed by the Governor-General on the recommendation of the Attorney-General, and 16 members appointed by the Governor-General on the recommendation of the Minister of Justice.
Initial consultation is free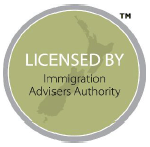 Vijeshwar Prasad
Licence Number: 201300569